GC BLACK FOREST CAJSA VARG
Cajsa is our youngest female, whom we kept from the combination IC June av Sandrabben and EC Chacolís Naradas.
She shows great lengths overall, has got a strong and long head with a good chin. She also shows a good coat quality. We could wish a bit better top (higher) but she is very young and still developing.
Cajsa loves to relax and lay back, she got easy to purr and wants your contact. It's exciting to fell her further on :)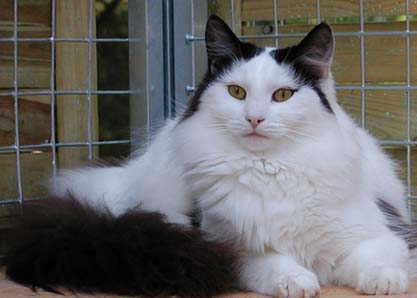 1 year old
GENDER: Female
COLOR: n 02 - black-white Harlequin
BIRTHDATE: 22 July 2004
BLOOD TYPE: A
FIV- & FeLV-tested - negative
HCM-tested - negative, October 2005
GSD IV-tested - normal, March 11th 2009
WEIGHT AT BIRTH: 124 gram
WEIGHT - 14,5 WEEKS: 2140 gram
PEDIGREE: HTML
.................................................................................................
LITTERS: Litter 15
.................................................................................................
SHOW RESULTS
2004, 2005, 2006, 2007
Cat of the Year 2005, SMK
Adult of the Year 2005, Skogkattslingan (IDP)
250 points (4 shows)
Cat of the Year 2006 SMK
7th place